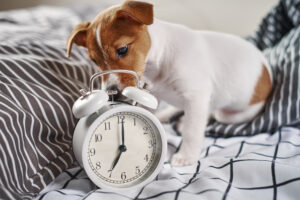 Temporal distortion sounds like the name of an 80s indie rock band, but it is a genuine part of having ADD/ADHD and other mental health challenges that affect our attention. Time for folks who don't deal with these challenges experience time as a liner event. It just is. Sure, they may seek to manage, organize, or make the best use of it, but very few systems address handling time when your perception it is not like everyone else's. Temporal distortion can take several forms. Here are three types of temporal distortion.
Hyperfocus is that state of being where time stops for the person who experiences it. It's those times when whatever you're doing becomes so consuming that you forget to eat, drink, or go to the toilet because you are so focused. While it can be a positive issue in some cases, in that you may be very productive, it can also create massive problems if you neglect yourself or your family because you let everything go when you are in the groove. 
Contrast this to time exaggeration. It usually occurs when we have to do something that doesn't grab our attention. It's as if time is going in reverse. It takes f-o-r-e-v-e-r and a day. This is a symptom of time exaggeration. We exaggerate estimations of the time required to complete a task. We convince ourselves it will take hours, so we don't even start to work on the task believing we will never finish it.
And finally, what I like to call time evaporation. It occurs on those days we sit down to write, with hours of unscheduled time ahead of us, a blissful infrequent occurrence and a luxury. We then sabotage ourselves by opening a browser to research just one thing. We lie to ourselves that it will only take a few minutes. We fall down the internet rabbit hole, and when we come out, we've eight ideas for new stories, learned more about an obscure topic than anyone needs to know, and our writing time has evaporated. 
So, how do we create an environment that can help us improve our perceptions of time so we can get some writing done? Here are my top four tips for preventing/minimizing temporal distortion.
Hyperfocus: Set alarms to combat hyperfocus

: Set a timer is the traditional advice for interrupting yourself so you remember to eat, pick up your kids, or whatever crucial thing you may forget to do if you get into your work. However, alarms only work if you don't ignore them. For folks with attention issues, not responding to and ignoring alarms is not purposeful. Folks in hyperfocus don't hear or see the world around them. We miss flights, bus, and train stops because we don't hear the announcements. We lose track of time and miss appointments because we don't hear the alarm. So alarms may work or not work for you.  For essential things, like picking my kids up from school or meetings, I set my phone alarms with labels so that when it goes off, it does two things, not only does it interrupt me, but it also reminds me why the alarm is occurring, because, in the fog of hyperfocus, it is possible to forget why you need to stop, even for things that are reoccurring like picking up your kids or regular appointments. I also place my phone in a location that forces me to get up from my desk to silence it, put the volume up as high as it will go and set it for an obnoxious sound so that it breaks through my focus. Your mileage may vary but this one thing has worked dramatically for me, in that I can relax and enjoy in my flow state without worrying I am going to miss something important. 

Time Exaggeration: Time yourself doing tasks you dread

. I hate folding clothes. Truly hate it. But I hate it a lot less after I timed myself doing it. Taking my time and using our largest laundry basket doesn't take me more than fifteen minutes. And that is freeing because I know that no matter what, it will not take me more than a quarter of an hour to finish the task. So I can schedule it. Combining it with a labeled alarm means I don't leave laundry in the washer for days (ugh) and don't have to dig through a basket of unfolded clothes for the least wrinkled shirt to wear. How does this help with writing? For those things you hate to do, like editing, revisions, or proofreading, time yourself editing a page, keeping in mind that copy editing and story revisions will be different than proofreading. Knowing, on average, how long it takes you to do a task means you can stop procrastinating because you "don't have time." You can make the most effective use of your time by scheduling them. It is a way to get through the tasks you don't like so that you can get on with the ones you prefer instead of fretting about not doing things you hate.

Time Evaporation: One task at a time

. If you set time aside for writing, write. No research, mood board creation, character worksheets, or whatever is allowed. Put words on the page. All the other writing adjacent tasks are not writing. The hard truth is that unless you get the words out of your head and on the page, you are not writing, and you will not finish your project. Research, character development worksheets, mood boards, and outlining are all important, but you can become so involved in prewriting tasks you never get to the writing part because, let's be honest, they are more fun. How to stop yourself from wandering away from your writing? Schedule prewriting tasks separately from drafting. Use an app like Focus (https://apps.apple.com/us/app/focus-time-management/id777233759?mt=12) or Freedom (https://freedom.to) to block access to the internet and other distractions. If you come to a place in your writing and you decide you need to research a topic, or have a question, make a note of it, put it in brackets into the text, and get on with your writing. Preventing distractions can also be as simple as setting your phone to do not disturb, turning it off, or putting it in another room. Numerous studies have shown that mentally switching between tasks requiring different thought processes is ineffective. Multitasking is a myth unless it involves using your body/mind for tasks: like listening to an audiobook while running or answering email while on a stationary bike. 

Create an environment that supports your writing

. Do you like to work in chaos? Or does it not matter if you are locked in? I confess to being able to write in just about any place or situation if I have music and headphones. Once I start writing, I don't notice anything else visually. I realize that for most folks, this may not be possible. I have many friends who can't write if their kitchen needs cleaning or their house or desk is messy. For those folks, prioritizing creating an environment that supports your writing is vital. Start by listing what your ideal writing space would be. Dream, and let your imagination run wild. After creating your wish list for your perfect writing space, look at the list and figure out what you can do to make it happen realistically. I wrote at a tea shop for years, I would drop my kids at school, and at least three days a week, I would go to Tempelton's tea shop in my little town and write for 2-3 hours. Over four years, I wrote 12 books in that shop because being there meant I didn't have anything that distracted me. I treated it like an office. The rent was the price of a pot of tea and a scone. The owners were terrific, and I miss them dearly as they moved back to Scotland a few years ago. After the shop closed, I struggled to get into a groove again. Panic set in as my routine was disrupted. I feared not being able to write as effectively had been. I sat down and made a list of why working at the tea shop worked for me. The bottom line was that I didn't have to get up to make individual cups of tea, the shop didn't have windows, and I worked with headphones. All of those things were achievable at home. I purchased a thermal carafe and turned my desk to face the wall. The bonus for this change was more time to write as I reduced commuting time as my house was closer to the school. Nothing lasts forever, and now whenever my routine is disrupted (looking at you pandemic and homeschooling) I go back to list-making and rethinking the situation, focusing on the question: how can I make this work? Check out this video by Struthless (https://youtube.com/watch?v=ikz3ECL5NEk&feature=shares) about your environments and its effect on your art/work/life.
If you are struggling with temporal distortion, I hope these suggestions help you find ways effectively use your writing time. I'll be back with the next post in this series. Dealing with Disruptions: Two-Legged and Four-Legged.