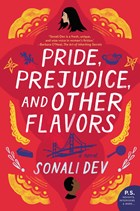 Sonali Dev's retelling of Jane Austin's Pride and Prejudice is a gorgeous reframing of Austin's original that addresses classism, racism, and sexism in an intriguing and eminently readable book. The story honors the original and re-envisions it to embrace issues of family loyalty, love, and betrayal. Raised in an environment where family comes first, and outsiders are not to be trusted, neurosurgeon Trisha Raje is brilliant, focused and all but ignored by her family as they close ranks to support her politician brother.
DJ Caine is a chef, a rising talent struggling to build his catering business and pay for the surgery necessary to save his sister's life. Sonali Dev does not flinch from the realities facing immigrants and people of color as they navigate the challenges that face them daily, and racial, cultural and class aggressions large and small in her novel. From their first meeting class issues, DJ's stubbornness and Trisha's arrogance and her cluelessness facing individuals outside of the rarified circles she has been raised in seem insurmountable.
Sonali Dev is a masterful storyteller and develops the romance between the two in a believable way as DJ and Trisha navigate classism, colorism, racism, sexism, and pressure from Trisha's family. Dev's novel is superbly paced, and an elegant romance. Trisha and DJ's story is complex and believable as they overcome their differences and learn to see each other as individuals rather than stereotypes, finally recognizing that their love of family is the bridge between their lived experiences and what allows to embrace the love they each are not sure they deserve.
I thoroughly enjoyed this novel, reveling in Dev's trademark luscious world building and evocative language. Pride and Prejudice and Other Flavors is an amazing reenvisioning of classic work. Bravo Sonali Dev, once again you have left me breathless and eager for your next novel.
Scheduled for release May 7, 2019, available for preorder at Amazon,   Kobo    And other Ebook retailers.