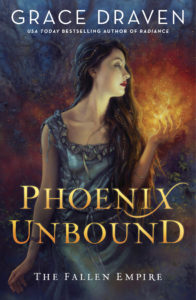 I found Grace Draven's books the way I find many of my favorite reads; a friend recommended her book Ediolon. Which, if you haven't read you need to, but I digress. I follow Grace on Facebook and have been eagerly awaiting this release. To say it was worth the wait is an understatement. Rich world building, strong character ARCs, and an enthralling storyline that kept me transfixed for a long flight. This story examines the bonds of family, loyalty, honor, and love. The romance element is intense but not overwhelming, and the fantasy cultures are believable and rich. Both characters share a history of abuse imposed on them by a vicious empire and family betrayal. The growth of both characters as the story progresses is believable, heart wrenching and well written. One of my pet peeves when reading stories where characters have suffered abuse is the magic penis/vagina scenario wherein the person who has been abused is suddenly okay with sex because they met the right person.  This story handles the sexual tension between the characters with respect and sensitivity. Her approach to the main characters' attraction to each other and their conflicting feelings as they struggle with their sense of family and kinship, demands of family loyalty, and the political threats to their lives was believable and captivating.
  As a long time reader of fantasy and fantasy romance what I like best about Grace's books is her ability to deliver both a terrific fantasy story and a great romance in one package. She also writes fight scenes that are some of the best I've ever read, and the revenge fight scene in Phoneix Unbound is high up on my list of greatest fight scenes ever.  I am a person who re-reads fight scenes the way some folks re-read sex scenes, and the showdown fight scene in Phoenix Unbound is earmarked for future re-reads. For those of you wondering, Ms. Draven delivers hot sex scenes too. This novel is perfect from the first to the last page, don't wait, go pre-order your copy of Phoneix Unbound. Be warned, know that you are going to want to read the rest of Grace's catalog after you do.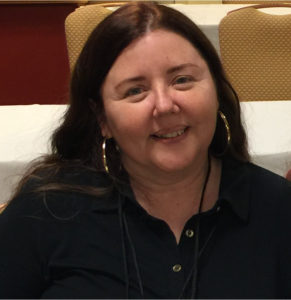 Grace Draven is a Louisiana native living in Texas with her husband, kids, and a big, doofus dog. She has loved storytelling since forever and is a fan of the fictional bad boy. She is the winner of the Romantic Times Reviewers Choice for Best Fantasy Romance of 2014 and 2016, and a USA Today Bestselling author.
Brenda Murphy writes short fiction and novels. She loves tattoos and sideshows and yes, those are her monkeys.  When she is not loitering at her local tea shop and writing, she wrangles two kids, one dog, and an unrepentant parrot.  She reviews books, blogs about life as a writer with ADHD and publishes photographs on her blog Writing While Distracted.    You can find her on Facebook by clicking here.
If Twitter is your thing follow me @BMurphySideshow
Website: www.brendalmurphy.com
Facebook:  https://www.facebook.com/Writing-While-Distracted
Books available at