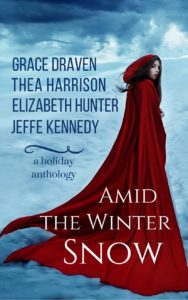 Four of my favorite fantasy authors in one volume? Four stories that are rich, well written, and glorious in their world-building? Four stories that are my idea of what a winter holiday anthology should be no matter what you celebrate? Bring it. All of it, and give it to me. That is exactly what Grace Draven, Thea Harrison, Elizabeth Hunter, and Jeffe Kennedy have done. Confession: I don't usually read holiday anthologies. I do not like sticky sweet stories, holiday inspired or not. I like tension, drama, action, and a well wrought HEA or HFN. And that is what Amid the Winter Snow delivers. The anthology is full of strong plots, aching desire, fantastic worlds, and love. Each story had me turning pages and staying up later than I should to finish it. I have not read as much of Thea Harrison and Elizabeth Hunter's work but am going to remedy that after this book. As for Grace Draven and Jeffe Kennedy, I am knee deep in their fantasy realms and this book reminds me why I started reading them in the first place.
Grace Draven's story, In the Darkest Midnight, with it's nod to the Wraith Kings made me ugly cry. Not unusual for Grace's stories, but be forewarned, she will squeeze your heart hard and then gently release it.
Thea Harrison's story, The Chosen, had me one clicking her books. I like a bit of intrigue with my fantasy romance and this fit the bill. Steamy and fun, a good read right before bed.
Elizabeth Hunter's story, The Storm, is a parable of sorts, the characters are well-developed and their story is entertaining, hopeful, and very relatable.
And finally Jeffe Kennedy's story, The Snows of Windroven, is a tale set in the Twelve Kingdoms universe, featuring Ash and the Queen Amelia. No one writes a slow burn like Jeffe, and it is worth every page you turn to get there. This story stands on its own, so even if you have not read the other books in the Twelve Kingdom and Uncharted Realms series you will enjoy it. Be warned, you may find yourself one-clicking the rest of the series. And you should. Really.
If you are looking for a palate cleansing read this anthology is the perfect antidote to overly sweet holiday tales. It drops on December 12th but you can avoid the rush and pre-order. Links below.
TITLE: AMID THE WINTER SNOW
AUTHORS: Grace Draven, Thea Harrison, Elizabeth Hunter, Jeffe Kennedy
PUB DATE: 2017
As the snows fall and hearths burn, four stories of Midwinter beginnings prove that love can fight its way through the chillest night…
THE DARKEST MIDNIGHT, by Grace Draven The mark Jahna Ulfrida was born with has made her a target of the cruel and idle all her life. During the long, crowded festivities of Deyalda, there's nowhere to escape. Until a handsome stranger promises to teach her to save herself…
THE CHOSEN, by Thea Harrison In her visions, Lily sees two men fighting for her tiny country's allegiance: the wolf and the tiger, each deadly, each cunning. One will bring Ys chaos and death, one a gentler path—but she's destined to love whichever she chooses. The midwinter Masque is upon them, and the wolf is at her door…
THE STORM, by Elizabeth Hunter When her soul mate died in a massacre of the half-angelic Irin people, Renata thought she'd never feel happiness again. She's retreated to the snowy Dolomites to remember her hurts—until determined, irrepressible Maxim arrives to insist on joy, too. And before she can throw him out, they discover a secret the Irin have to know…
THE SNOWS OF WINDROVEN, by Jeffe Kennedy As a blizzard threatens their mountain keep, the new Queen Amelia of the Twelve Kingdoms and her unofficial consort Ash face their own storm. Ash knows a scarred, jumpy ex-convict isn't the companion his queen needs. But when a surprise attack confines them together in their isolated sanctuary, the feast of midwinter might tempt even Ash into childlike hope…
Amazon
Smashwords
Google Play
Kobo
iBooks
Barnes & Noble
*ARC Review
SaveSave
SaveSave
SaveSave