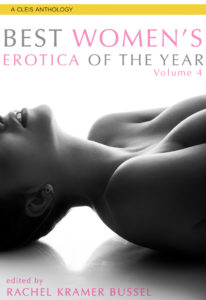 I have been a fan of the Best Women's Erotica series since the very first volume. If you follow my blog, you also know I have a thing for short stories and anthologies. I have found some of my favorite writers through anthologies such as this. This year the anthology's theme was Outsiders and Risk and features one of the most diverse collections of authors and stories in this series to date.
I was particularly stoked to see a few stories that featured diverse women, women loving women, trans characters, and unique situations. The heat level is what you would expect from a volume of erotica. Eliza David's "Protest of Passion," Megan Hart's "Seven Sweets and Seven Sours," as well as Alyssa Cole's "Essential Qualities," and Calliope Bloom's "O Captain! My Captain" are poignant as well as hella sexy.
If you are looking for a sexy little something to keep you warm on cold winter nights you can not go wrong with this collection. It is available for pre-order now if you have a mind to give your one-click finger a workout. Bravo Rachel Kramer Bussel for another sexy well-edited collection. 
Brenda Murphy writes short fiction and novels. She loves tattoos and sideshows and yes, those are her monkeys.  When she is not loitering at her local tea shop and writing, she wrangles two kids, one dog, and an unrepentant parrot.  She reviews books, blogs about life as a writer with ADHD and publishes photographs on her blog Writing While Distracted. You can find her on Facebook by clicking here. Website: www.brendalmurphy.com
Books available at