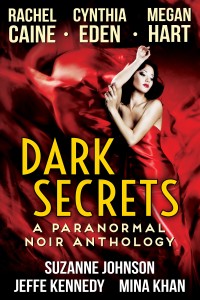 Halloween is the ultimate holiday for those of us who relish having the bejesus scared out of us. For everyone who loves the creepy, the gory, the freak show, the weird, and just plain scary this is our time. We delight in the month of pumpkin spiced everything to the core of our adrenalin soaked souls. In celebration of my favorite time of year, I have a list of thirteen reads for Halloween. So take a break from visiting haunted houses and treat yourself to these thirteen dark reads.
Dark Secrets: A Paranormal Noir Anthology,

  Rachel Caine, Cynthia Eden, Megan Hart, Suzanne Johnson, Jeffe Kennedy, Mina Khan. This is a marvelous anthology of paranormal noir romance. It is all here, ghost stories, dark fey, vampires, tormented djinn, murder, mayhem, and death. Hell, the devil himself appears in these pages. This anthology is a Halloween bag full of all your favorite reading time treats. It is hard to resist the sexy bite sized story morsels that beg you to read just one more.

White is for Witching,

 Helen Oyeyemi. A creepy house, and a history of unfulfilled hunger passed down through generations, this book will have you swearing off of bed and breakfast accommodations.

Boy Snow Bird,

 Helen Oyeymi's lyrical and viscerally terrifying novel that turns Snow White upside down and sideways. I enjoyed this book so much I immediately read every thing else that Helen Otoyemi has written, so be warned.

Family Dinner: A Tale of the Undead,

 Mark C. Scioneaux.  A family love zombie story with the best twist ending I have read in years..

The Resurrected Compendium,

 Megan Hart. A collection of terrifying, angry stories of the undead that dove tail into each other. These stories were originally released individually but are now collected into this gore fest of a compendium. The undead in these stories are not mindless slow walking killers. They are resurrected, pissed off, and they want what they want.

Apparition

, Michealbrent Collings. A novel that creeped me out so bad I had to read it in small bits. It does for cockroaches what Steven King did for clowns. Read it in a well-lit room in the company of others.

Every Dark Desire

and the sequel

Desire before Dawn,

  Fiona Zedde. Yes, I know this is two books and it messes up the count, but damn these feature fierce vampires done right. Bloody, violent, and sexy as hell, these vamps will have you on your knees, baring your throat, begging for a nip.

The Vines

, Christopher Rice. Settle in for some southern discomfort as Rice spins this scary tale featuring family secrets, killer vines, and a hell of a twisty ending.

The Headmaster

, Tiffany Reisz.  A fun, not so scary ghostly love story in the best tradition of weird tales. The banter and dialog make this a must read.

American Psycho

, Bret Easton Ellis. Disturbing, darkly funny, and violent. What's not to love about this book? If you are late to the party for this book, do yourself a favor and read it.

Dawn- Book one Xenogenesis series,

 Octavia Butler. There are rumors that this will be coming to television and as a huge fan of the late Octavia Butler, I hope and pray that they do not screw it up. Dawn is a dark futuristic tale that reminds us that in the universe, survival has a price, and rescues can be expensive in more ways than one.

Scary Stories to Read after Dark,

Alvin Schwartz. Remember all those stories that you used to tell each other at over-nights to guarantee that no one slept, and that everyone was freaked out? This is a fantastic collection of all those tales, written down so that you don't have to try to remember them. When your kids bug you to tell them a scary story, start them off right and read them one of these. This is best for older (9+) kids. Use your discretion. You know your kids better than anyone else, but be advised if you read this around the bonfire while camping be prepared to have your kids in your tent!

Books of Blood,

 Clive Barker. No discussion of horror can leave him out. If you have not read this collection of short stories by the master you need to experience these wonderfully horrific tales.
There you have it. So go ahead light the fireplace, grab an adult beverage of your choice and settle in with any one of these books to enjoy the mayhem.