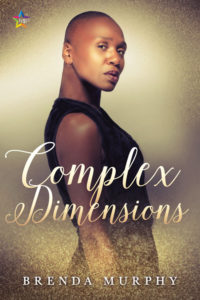 Hello all, it is the weekend and time for another #rainbowsnippet. This week my kids went back to school, and I'm knee-deep in new projects, or as I like to think of it playing with my imaginary friends. My next Rowan House novel Complex Dimensions releases in a few weeks, so this week's snip is a bit of Veronica and Millie. Enjoy.
From Complex Dimensions:
"Do you fancy a snack? Robin packed us some biscuits and sandwiches."
Veronica smiled at Millie. "Not hungry"—she trailed her fingers down Millie's arm leaving tiny raised hairs in their wake—"for cookies."
Millie closed the flap on her saddle pack. "No?"
Veronica passed the water bottle back to Millie. "Nope."
Millie stowed the water bottle in the pack. "Sandwich, then?"
"Not hungry for anything but you." Veronica tugged her hand and pulled her into a kiss, loving the way Millie relaxed into her.
Millie's hands rested on Veronica's waist, her thumbs rubbing in small circles over Veronica's hipbones. "And after Robin spent so long making us lunch."
"Later." Veronica had wrapped one arm around Millie's broad shoulders, and with her other hand she played with the soft brush of hair on the back of her head.
Rainbow Snippets( https://www.facebook.com/groups/RainbowSnippets/)is a group for LGBTQ+ authors, readers, and bloggers to gather once a week to share six sentences from a work of fiction–a WIP or a finished work or even a 6-sentence book recommendation (no spoilers please!).
In this group, you'll find anything from romance and historical fiction to mystery and YA. The common thread is that every story's main character identifies as LGBTQ+. The snippets could range from zero flames to full-on sexytimes, anything goes content-wise. The only rule is snippets will be 6 sentences long–one for each color in the Pride flag.
Brenda Murphy writes erotic romance. Her novel, Knotted Legacy, made the 2018 The Lesbian Review's Top 100 Vacation Reads list. She loves sideshows and tattoos and yes, those are her monkeys. When she is not loitering at her local library she wrangles two kids, one dog, and an unrepentant parrot. She reviews books, blogs about life as a writer with ADHD and publishes photographs on her blog Writing While Distracted. You can find her on Facebook by clicking here.  Sign Up for her email list here  www.brendalmurphy.com
Books available at