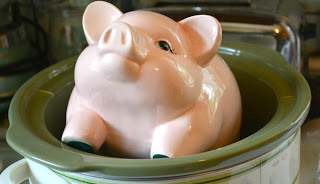 Many ADD/ADHD people are visual people. We struggle with organization because if we loose sight of an object it might as well not exist. So what does that have to do with automatic savings? If you have the money deducted from your paycheck before you see it, you don't miss it. I am not talking hundreds of dollars to start your savings project. If you are struggling to pay your bills, I am sure right now that you think I have lost my mind, and that you could not possible squeeze another dime out of your paycheck, or you have tried to save a fixed amount each month in the past but have ended up using it to pay bills because you started with too high an amount.
I am talking a small amount. How small? How about ten dollars a paycheck? Twenty dollars if you are paid once a month. Set it up to come out before you get your check. Most people are forced into automatic deposit, and it it very easy to set up a spilt deposit through your employer.
Ten dollars. That is all, less than the price of two fancy coffee drinks, less than two fast food meals, less than two lunches purchased at work. If you have an bank already, but do not have a savings account, open one, make sure it does not have any fees that will eat away at your savings. You can even open an on-line savings account and set it up an automatic transfer to come out of your paycheck.
Now the next step is really important. Do not look at your balance for the next year. That's right a whole year. If you are nervous about this, have a trusted friend look at your statements for you, or if your partner is more trustworthy about money have them keep track of the balance. After one year, when you look at your balance you will be surprised at how quickly the money added up.
If you are like many ADHD people the impulse to spend it will be great. Do not do it! This is the start of your emergency fund. You know the extra money you are supposed to have sitting in the bank for emergencies? This is the seed. I know that some of you will have read about emergency fund recommendations that are so common in financial self-help books or on the blogs of sites like GoFundMe, stating that you should have three to six months of cash saved in a bank account for emergency needs, before you stop reading and give up because you can not even imagine how that would happen when you just pay the bills now.
In one year you will have $10.00 X 26 = $260.00 that is if you get paid every two weeks and save $10.00 per pay period, or $20.00 X 12 = $240.00 if you get paid once per month. It may seem like a small amount , but it is so much better than nothing. The balance will have also increased because of interest. Interest rates are pretty low right now for savings so I did not include them in the illustration, because the point of it is to prove to yourself that you can save money. It is what I call the slow- cooker method of savings.You just set it up and forget it, and just like a warm home-cooked meal that magically happens when you use a slow-cooker, the money accumulates. If you are feeling bold after the first year, increase the amount you save per month by five or ten dollars.
Many people are so deep in debt that they believe that there must be some great grand secret that everyone else but them heard at birth, and that they are never going to be able to handle their money, get out of debt, save money, or retire. This strategy also works for retirement accounts, set up as a pre-tax percentage. I am sure that there are retirement advisers, and people way better at managing money than I am, screaming right now at this approach. My guess is that they have never had the issues with impulse control, forgetfulness, or holding a steady job that many people with ADD/ADHD have to contend with on a daily basis.
Money issues come with an inner conversation of shame, guilt, embarrassment, and unworthiness about money. Setting up automatic savings can help break the pattern. Try this method, it does work. If you save anything, it is better than saving nothing. Never underestimate the ability of small steps toward a goal, or to prove to yourself that you can accomplish an project. Everyone has to start somewhere, and where you are is the best place to start.