I was reading a thread a few weeks ago about writing, specifically about the need to write every day and the idea that if you didn't, you weren't serious about being published. One of the you-must-write-everyday proponents wrote, "I treat writing like my job and show up every day." As I turned that thought over it occurred to me "Is writing my job or my business?"
Now, in case I have been unclear in the past,  I'm am firmly in the camp that recommends writing when you can, making use of whatever time you have to write. Working this way has seen me through four published books with another novel set to release in September. A job usually has set hours and an expectation of working a set time. As a small business owner, in addition to being an author, I can tell you that working on your business is a matter of finding/making time to do what needs to be done. Owning a business involves thinking and dreaming, strategic planning, cash flow management, and setting goals.
Just showing up every day and putting words on paper does nothing if you don't have a plan for what to do with those words. If having your book traditionally published or indie publishing is your goal you have to have a plan, and then you must take advantage of every second you have to work your plan.
As someone with a day job, who is also a spouse, a parent, and a daughter with older parents and in-laws this is the only way I've been able to get any writing done with the goal of publication. I've researched publisher sites and calls for submission databases sitting on the couch while my kid with a fever dozed next to me. I've written in hospital waiting rooms while various family members were having surgery, and in medical offices and occupational therapy waiting rooms, and very late at night when the house is quiet, and I can't sleep.
When my kids were little, I had exactly 2 hours and 45 minutes to write between when I dropped them off at pre-school and when I picked them up. I wrote like a fiend during that time, unless I need to grocery shop, or had to run some other errand that would have been incredibly stressful with three-year-old twins in tow. Writing every day does not make you a writer or indicate the level of your seriousness. The things that indicate a serious approach to publishing your work are writing, editing, submitting your work, finding ways to improve your craft, and working steadily towards what you want. Writing for publication is not just about writing, it is about learning your craft, striving to make the next book better than the last, and most of all it is about not listening to people say you have to do X, Y, or Z to be considered serious writer. You do you. Find your way. Don't listen to people who insist there is only one way to do anything, even me.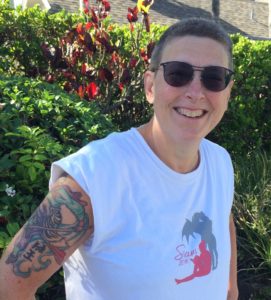 Brenda Murphy writes short fiction and novels. She loves tattoos and sideshows and yes, those are her monkeys.  When she is not loitering at her local tea shop and writing, she wrangles two kids, one dog, and an unrepentant parrot.  She reviews books, blogs about life as a writer with ADHD and publishes photographs on her blog Writing While Distracted. You can find her on Facebook by clicking here.
Website: www.brendalmurphy.com
Books available at