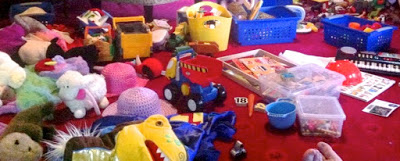 Clutter, stuff, things, what ever you like to call all of the items that magically multiply to fill every inch of your house, attic, garage, basement, shed, and storage units. Clutter eats your money like a hungry dog on a meat wagon. For people with ADD/ADHD clutter is a problem for several reasons. We struggle with decision making, we can always think of ways that said item could be useful, we have so many interests, hobbies, and things we are fascinated by, that we collect things at an alarming rate.
When we become distracted by the next thing, the items are still there from the first thing, or we buy everything we need for a project and then become distracted by another project and never get back to the first project.
Our powers of hyper-focus allow us to work in chaos that would shut most people down, but can lead to the kind of room that is ridiculously over stuffed. It can also be a constant source of friction for others that share our space.
Clutter costs money beyond the initial purchase as we spend money on storage containers for what we bought, re-purchase items that we can not find when we need them, and spend money for storage space for the excess in our lives. Kitchen clutter costs money when you throw out expired canned and packaged goods, and fresh food forgotten in the refrigerator. Clutter is a huge drain on your finances and causes stress. Many people, those with and without attention and impulse issues struggle with clutter. De-cluttering is like dieting, we all know what we are supposed to do, but damn, it is hard to stick with it, and quick fixes do not work. So, what is the solution?
Enter Mari Kondo, her amazing book The life-changing magic of tidying up: the Japanese Art of decluttering and organizing, and the "Konmari" method of tidying. Her philosophy and word choice will feel odd to some, as this work is translated from Japanese, but her ideas about getting rid of everything that does not "spark joy" when you pick it up is bang on. She does not believe that following another person's idea of what you should, or should not discard will ever stick, nor does she believe that rules such as "one in, one out, or one in two out" will work and that in the end you will go back to your cluttered ways.
As someone who has struggled with clutter and collections forever, this book was clear, easy to follow, and gave the best advice: No one but you can decide what is enough of any type of thing, but if it does not "spark joy" it does not belong in you space. As she rightly says, "only you can decide what is enough" and if you want to keep one hundred pairs of shoes it is okay as long as you genuinely love each pair. Unlike some methods of decluttering that have left me feeling like I was forced to discard things dear to me, this method made me feel like I was in control, and that in the end it was my choice and I was very happy and felt like a weight had been lifted when I donated clothes that no longer "sparked joy" to Goodwill. We can also put some of our bigger things into Self Storage Units to help us in case we can't get rid of them at that moment, not only does it mean that we clear our home of what we don't need, but we are able to make sure our things are correctly stored before being given away/sold.
Ms. Kondo has a set routine for discarding items, moving you from less difficult choices to more difficult ones, starting with clothes, moving to books, and finally everything else in the order she has listed in her book. Unlike other books that recommend that you have someone else touch and hold the item you are considering, she has the person touch and hold their item while asking themselves "Does this spark joy?".
Her method may seem quirky, but by doing this, I was able to discard half of my wardrobe. Others I have talked to that are following the "Konmari" method have discarded even more. This may sound wasteful but most people only wear about twenty percent of the the clothes they own so this a way to have every outfit you pick up be one that you want to wear, not one that gets pulled out, looked at, and stuffed back in the drawer or closet.
She also has you discard by item, a grand way to see everything of that type you own. This was a little overwhelming but she argues that we have things stored all over and that we really do not know what we own until we get it all in one place. This will be challenging, as you will need a space to work in that allows you to do this, but in the end it made the process much easier. We have discussed getting a Workshop storage shed for the backyard that we can put all these small things in as we sort them out mindfully, this can help us greatly as it means we can keep these things quickly to hand as we get through them piece by piece, whilst compromising on all the clutter without it being actually within the house.
Ms. Kondo states that it takes about six months to complete the process of discarding but to the date of publication of her book, she has had no one that needed to repeat the course or who has slipped back into their old ways.
So are you ready to give it a go and start saving money? I started the process over the Memorial Day holiday, and will keep you posted as I progress.