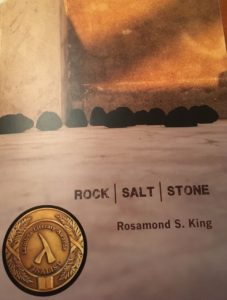 I had the good fortune to hear Rosamond S. King perform poems from Rock/Salt/Stone and a series from Abattoir as part of her cabaret-style performance of Resident Alien. It was utterly and devastatingly perfect. Her delivery of spoken word poems combined with through-line of song lyrics is powerful, and if you ever have an opportunity to see her perform, run do not walk to the venue.
The theme of her show addresses the experience of being unwelcome in one's own home because one is queer, black, or an immigrant. Dr. King's collection of poems Rock/Salt/Stone is a 2018 Lambda Literary Awards Finalist.
If you only read one book of poems this year, treat yourself to this collection. Dr. King's imagery and language draws on different cultures, African, Carribean, Queer, and American, and folklore. Her poems are lyrical and rich, and her playfulness with language is apparent even as she addresses subjects that are heartbreaking, the positive energy of these poems shines through.
I am ever grateful I was able to hear her performance because now, whenever I read her work I will hear her voice as I read and re-read her poems. Even if you are someone who does not read poetry, particularly if you are someone who does not read poetry, get outside of your comfort zone and read these poems. 
My favorite poems from this collection are in no particular order: the poem wet, {I fell in love with the market woman}, you.nasty., and for Isatoufor Haddy for Adama for Elle.  Be warned the soul of these poems will get under your skin, you will not be satisfied with a quick read through but will want to savor each bite of her razor sharp observations about life dressed up as poems. You can find Rock/Salt/Stone at https://www.spdbooks.org/Products/9781937658618/rock–salt–stone.aspx
And Amazon https://www.amazon.com/Rock-Salt-Stone-Rosamond-King/dp/1937658619
SaveSave
SaveSaveSaveSave
SaveSave
SaveSave