I met a life goal this year. Ever since I attended my first writer's conference, way back in 2012, I've had on my goal/dreams/wish list "Present workshop at a writer's conference."
Why? Because I benefited from so many writers who shared what they had learned throughout their careers. After every workshop I attended, I experienced the sensation of being lifted up and encouraged. I wanted to share those sensations with other writers. I wanted to give back. Achieving my goal would also mean that I would have reached a point in my career where I had something of value to share.
This summer, I met my goal at the Golden Crown Literary Society's virtual conference.
I had a wonderful time presenting my workshop, answering questions, and engaging with the audience. Silencing the Voices and Freeing the Writer Within is a workshop that offerss solutions and ideas for non-neurotypical individuals struggling with writer's block. As part of the workshop, I created a workbook for folks working through writer's block, and it's available as a free download on my website.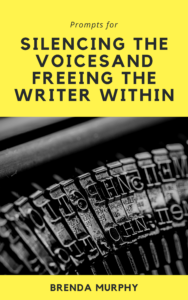 I hope everyone who wants to share their words with the world will do it because it always needs more stories. Until  next  time  I'll  leave  you  wtih  this  thought.
Brenda Murphy writes short fiction and novels. Her novel Double Six won the 2020 GCLS Goldie for Erotica. The first novel in her University Square Series was a 2021 Goldie Finalist.  She loves tattoos and sideshows and yes, those are her monkeys.  When she is not loitering on her front porch and writing, she wrangles two kids, two dogs, and an unrepentant parrot.  She blogs about life as a writer with ADHD and publishes photographs on her blog Writing While Distracted.  Sign Up for her email list and receive a free short stories at   www.brendalmurphy.com
Books available at