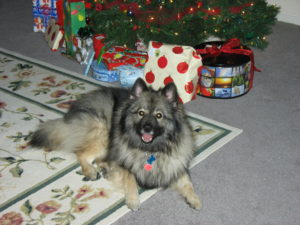 As much as I'd like to pretend that my life always goes according to plan that would be a lie. This past week we lost one of our dear sweet pups. She was ten, a long time in dog years, never long enough in people years. She was the runt of her litter, the only girl, and feisty as hell.  She ran the house, was a fierce protector of our kids, and always ratted them out by barking when they did anything she thought was unsafe. She loved people and was a stealth kisser. 
Her death was sudden, but not unexpected as she had struggled with some health problems this past year. This week it's been hard to sit down to write, my office feels a bit emptier and my house is too quiet. Her brother is still with us, and he's been a huge cuddle bug and for that I'm grateful.  My plan to have my current WIP completed by the end of May is off the rails, I may finish by then, I may not. I'm giving myself permission to grieve as much as I need to, for me that means reading books with no angst and happy endings. I've managed to sit down to write yesterday and today and my time at the keyboard helps, immersing myself in my own own world where pets live forever is my favorite way to heal.  Schedules are great and planning is the only way that I accomplish anything, but grief has a way of up-ending all of it. So I'm going to do what I can and that will have to be enough. 
Rest in peace my Kona girl.