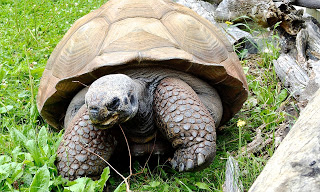 I love this turtle because he helps me to remember that no matter how slow you are moving, if you keep moving you will get there. Through kids being sick, through family illness, through birth, death, and all of life's messy bits, and most of all through your own inability to focus, if you keep moving you will reach your destination. Remember this when you are frustrated with your creative output: keep going.
I had a short fiction piece accepted this week for publication in an upcoming anthology. My kids think it is pretty awesome that I'm going to have a story in "a chapter book", and so do I.   I'm not going to go into how long it has been since I had a piece published, or how many rejections proceeded this acceptance, or how many times I have submitted manuscripts, because none of it matters. The point of this post is this: all those days that I squeezed in fifteen minutes of writing made a difference. Not giving up is what matters. If you quit writing, it is impossible to get anything published.
I will confess to struggling mightily in the warm months to stick to my writing schedule. The lure of outside kicks my ADHD into high gear. After a winter of being inside all I want to do is play. My kids are home in the summer time, and that cuts into my writing time as well. I have some ways of dealing with kids at home and last year I posted some tips for sticking to your writing schedule when your kids are out of school, and you can read them here .
Even if you take some writing breaks over the summer, make it productive, read that To Be Read Pile, collect photographs, experiences, and memories to feed your writing later.
Most of all don't give up, if you keep writing you will finish. Just keep moving. If you can only write one sentence, write a sentence. Like snowflakes it will add up. It may take years for you to accomplish what others accomplish in a month, it is okay, just keep writing.
Stick with it. Keep going, don't quit, enjoy the journey as much as the destination.