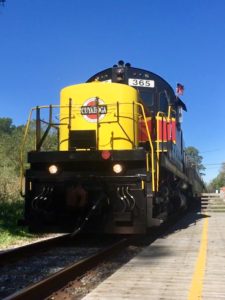 This is my first post in about four weeks. I'm glad to be back. The title of this post reflects how my life has been; I won't bother with the details, but let's say, two writers on deadline, twins, aging parents with health issues, work, travel, a cracked tooth, and root canal, collided in one spectacular episode of crazy train in our house. Sometimes I refer to it as being in the blender. Both are phrases to describe that awful can't catch up, always behind, I really should be doing (fill in the blank with whatever you feel most guilty about not doing) feeling.
I know everyone struggles when life goes sideways, but for those of us with ADHD, the collapse of routine adds another layer of stress that we have to work hard to bounce back from. If your kids/partner/ other family members are also non-neurotypical the loss of routine becomes a tsunami of overwhelm. 
How do you get off the crazy train? For me, it means letting go of things that can be allowed go of without causing too much trauma. For me, one of the first things that goes are blog posts. And the social engagements that do not feed me and cause extra stress. After that, making fancy dinners, which means I raid my freezer for our home cooked stockpile of meals I make over the summer, knowing it will get crazy at some point in the fall. This week is the start of NaNoWriMo, and I'm doing it again this year. If you notice on my list of things I let go, working on my current novel was not one of them. And that is because, for me, writing grounds me, even if I  can only squeeze in thirty minutes of work, doing just that little bit keeps me in the game.
Here are my steps for getting off the crazy train. Your mileage may vary, but here is a list to get you started.
The extra thing: Blogging or anything else you can lay aside and pick back up when life settles down. No, this does not mean skipping your exercise plans.
Say no to social engagements that do not feed you. You don't need to give a reason, just say no. Really.
Eat good food. Drink water. As tempting as it may be to say eff it and eat everything and drink a bunch of wine, just don't.
Breathe. Take a ten-minute walk out side, make it fifteen if you can. Walk, without your phone, the world can rotate without you being plugged in for ten minutes. Walk, breathe, and remember that it's okay to take some time for your self.
Make some art, or cook, bake, or do that one thing that always grounds you.
This is my list. I hope that you will come up with your own list for the next time the crazy train rolls into your life.
Brenda Murphy writes short fiction and novels. She loves tattoos and sideshows and yes, those are her monkeys.  When she is not loitering at her local tea shop and writing, she wrangles two kids, one dog, and an unrepentant parrot.  She reviews books, blogs about life as a writer with ADHD and publishes photographs on her blog Writing While Distracted. You can find her on Facebook by clicking here. Website: www.brendalmurphy.com
Books available at