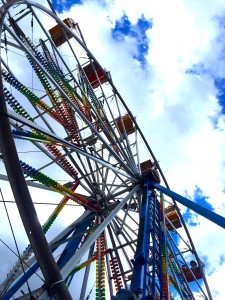 Rebalancing. The act of trying to stay on top of your commitments to yourself and others when your schedule changes. I have written before about why it is so hard for ADD/ADHD individuals to change their routines here. As a parent with ADD/ADHD it is hard enough keeping my own schedule together, let alone the little people in my house. We started using checklists for the kids so that they can help getting us out the door in the morning and into bed at a reasonable time at night. The checklists are working well for them, and after finding myself spinning like the Ferris wheel above trying to get myself out the door one morning I think I need a checklist for me. 
 Balance is really about rebalancing, letting go of what does not work and holding on to what does work. If I don't take time to examine my schedule and change what is not working, I end up frustrated, and crazed, and not getting anything accomplished. I started out this Fall thinking that I would be able to drop the kids off and head to the pool for a swim workout. I neglected to factor in that there are two aquatic exercise classes for older people scheduled when I planned on swimming, that it resulted in a very crowded locker room, and fewer lanes for lap swimming.
I got so frustrated that I skipped my swimming exercise. After two weeks of blowing off swimming I realized that I just needed to adjust my time. Every exercise recommendation you ever see says to do your exercise first thing in the morning so that you don't skip it, but for me, the morning is my most creative time, and the pool is too crowded. Instead of just giving up, I tried going after lunch and before I pick up the kids.  It worked, I get my swim time in, I have the locker room to myself, and I am in a better state of mind to deal with after-school-crazy time with my kids.
The willingness to try different ways to accomplish different tasks is key to success for people with ADD/ADHD. Let go of recommendations that do not work for you, and hold on to what works. Exercise really helps me with my focus, but I need to do it when it fits my schedule, not when everyone says you should do it.
This applies to every other task that people have opinions about when and how you should do it. For example almost every book of writing advice ever written advises that you write everyday.  Would that work for me? Nope, after a long shift at my day job I am too burnt out and tired. Write before my shift to get my writing in? Nope, not getting up at four in the morning to put words on paper, although I have stayed up to four in the morning writing when in a groove. What do I do instead of beating myself up about not writing everyday?  I make it count when I do write.  I set goals for word counts. I stick with what works for me.
Two years ago I participated in the madness that is NANOWRIMO (see my post here if you don't know what NANOWRIMO is) I only had weekdays to write, and only for two hours and forty-five minutes. So I sat down and figured out how many words I had to write each day in that two hours and forty-five minutes to finish.  Did I write everyday? Nope, but I still managed to get fifty thousand words written in twenty days. Find what works and hold on to it, and let go of any advice that does not work for you. Listen to yourself, research, experiment, read and re-balance to find your center.
Be kind to yourself, don't quit, find what works for you and do it.