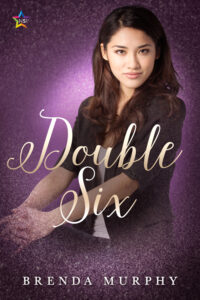 The fifth and most likely last book in the Rowan House series, Double Six releases on November 18th. I say most likely because I always call Rowan House my accidental series. I didn't plan for it to be more than one novel but the women of Rowan House all had stories to tell. The last book is Elaine (Cook) happy ever after and today's snip is from Double Six.
Petra bit into a lavender lemon shortbread from her plate. She closed her eyes and chewed, a blissful expression on her face.
Elaine laughed. "Robin has many talents. That is her signature shortbread."
"That is sinful." Petra took a sip of her tea.
"How do you know Lucia?" Elaine bit into her favorite chocolate biscuit.
Petra's eyes shuttered. "Pass."
"Why?"
"Why do you want to know?" Petra's expression was
neutral, but her eyes were hard.
"Lucia is part of my family now. You're the first
person she has ever mentioned in her life other than Madame. I'm curious. I don't care if you were involved. And neither will Martha if you're concerned."
Petra snorted. "Involved. That's one way to put it." She took another sip of her tea. "I met Lucia in Japan. Madame sent me to her."
"As her what? Sub? Chaperone? Minder?"
"She was studying shibari and was required to bring someone with her to be her canvas."
"You went willingly? Or was it Madame's will?" Elaine twisted her napkin in her hands.
"I wanted to go. There was no place for me at the Onyx." Petra's tone revealed nothing, her face a mask.
Elaine placed her plate on the table. "I don't understand what kind of hold Madame had. How she was able to draw strong women such as yourself, Lucia, and my sister to her side, have them beg to be hers."
"Don't you?" Petra tilted her head to the side. "How many women have asked or begged to be yours?"
Elaine shifted in her seat. "That's different." "How so? Because they were subs?"
Elaine picked up the teapot. "More tea?" "No, thank you."
Elaine could sense Petra's eyes on her. "Not going to answer?"
"I don't know what to say." Elaine sat back in her chair.
"Probably enough sharing for today."
"Goddess, I hate that word. I don't like sharing. I don't want to know. I think we should all keep our secrets and fucked-up feelings inside where they belong."
"So they can fester? Fuel your anger and pain?" Petra snorted. "And here I thought you were a sadist."
"I am." Elaine studied the pattern on the carpet. "And what good does it do to share? It's not like anyone really cares."
"Or stays around? That's the rest of it, isn't it? You don't expect anyone to stay if you're honest." Petra's gaze burned. "If you keep everyone at arm's length, hold back, always stay in control, you don't have to worry, do you? And yet you were surprised when Roxy left."
Elaine stood abruptly. "You don't know me. Three scenes, a few chats, and you think you know me. The audacity."
"I didn't say I did. I said I wanted to." Petra placed her plate on the cart before she pressed her napkin to her mouth.
Rainbow Snippets( https://www.facebook.com/groups/RainbowSnippets/)is a group for LGBTQ+ authors, readers, and bloggers to gather once a week to share six sentences from a work of fiction–a WIP or a finished work or even a 6-sentence book recommendation (no spoilers please!).
In this group, you'll find anything from romance and historical fiction to mystery and YA. The common thread is that every story's main character identifies as LGBTQ+. The snippets could range from zero flames to full-on sexytimes, anything goes content-wise. The only rule is snippets will be 6 sentences long–one for each color in the Pride flag.
Brenda Murphy writes short fiction and novels. She loves tattoos and sideshows and yes, those are her monkeys.  When she is not loitering at her local tea shop and writing, she wrangles two kids, one dog, and an unrepentant parrot.  She reviews books, blogs about life as a writer with ADHD and publishes photographs on her blog Writing While Distracted. 
You can find her on Facebook by clicking here.  Sign Up for her email list and receive a free erotic short story HERE
Check out more information about her upcoming releases and appearances at   www.brendalmurphy.com
Books available at