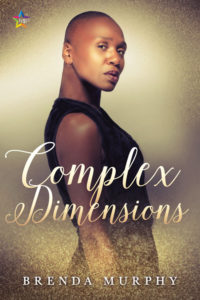 Hi all,
This week I'm busy doing laundry and packing for The Golden Crown Literary Society's annual conference. It's a short drive from my house to Pittsburgh, and I'm stoked to meet a bunch of folks in real life that have been so very supportive of my work. My fantastic publisher and the ever fabulous Natasha Snow have created another gorgeous cover for my next novel, Complex Dimensions, set to release in September.
I'll be reading from the manuscript during my Author Spotlight so if you're at the conference on Thursday, July 11th come on by and listen. I'll be reading with four other authors, including Erin Zak and Carsen Taite.
This week's snip is from Complex Dimensions.
Millie looked up and grinned. "You okay?" A tiny smirk twisted her mouth. "Have I stunned you with my Scrabble talents?"
Veronica laughed. "Dude, you have thoroughly spanked me. All I have left is Us and Ns. And nowhere to play them."
Millie grinned. "You're good. The last person I played with I beat by three hundred points."
Veronica leaned back in her chair as a tiny flare of jealous ignited in her chest. Ridiculous. I am ridiculous. She's not mine. So what if she played Scrabble with someone else? "Thank you. We played a bunch growing up. I'm rusty."
"If that's your version of rusty I better be prepared for our next game." She stretched and her shirt pulled tight across her chest and Veronica had to look away before she embarrassed herself.  "I hate to say it but I've got to go and try to get some sleep. I've an early pickup tomorrow."
Veronica stifled her disappointment. "It's okay. Maybe we can do this again sometime."
Rainbow Snippets( https://www.facebook.com/groups/RainbowSnippets/)is a group for LGBTQ+ authors, readers, and bloggers to gather once a week to share six sentences from a work of fiction–a WIP or a finished work or even a 6-sentence book recommendation (no spoilers please!).
In this group, you'll find anything from romance and historical fiction to mystery and YA. The common thread is that every story's main character identifies as LGBTQ+. The snippets could range from zero flames to full-on sexytimes, anything goes content-wise. The only rule is snippets will be 6 sentences long–one for each color in the Pride flag.
Brenda Murphy writes erotic romance. Her novel, Knotted Legacy, made The Lesbian Review's 2018 Top 100 Vacation Reads list. She loves sideshows and tattoos and yes, those are her monkeys. When she is not loitering at her local library she wrangles two kids, one dog, and an unrepentant parrot. She reviews books, blogs about life as a writer with ADHD and publishes photographs on her blog Writing While Distracted. You can find her on Facebook by clicking here. Twitter here  Sign Up for her email list for sneak peeks and more at   www.brendalmurphy.com
Books available at