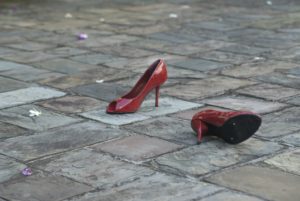 Hello Snippeteers!
This is my first snip for this year. I submitted the fifth book in my Rowan House series, Double Six, on Friday and I'm snuggled in with the snow and noodling my next book. I hope wherever you are you are safe and warm.
From Double Six:
Petra trailed her fingers over the stocks set into the floor. She paused beside the newest addition to the dungeon. A large polished wine cask mounted on its side, adorned with cuffs and chains to secure submissives over its wide curved surface. She drummed her fingers on the cask. "Victor's Vineyard. I know this winery. I had no idea they offered anything besides wine."
"They don't. It's a gift from a former client and her submissives. They commissioned it." Elaine shifted in her chair and crossed her legs.
"She must have been very grateful." Petra stopped next to an iron and wooden device resting against the wall. She side-eyed the antique torture cabinet. "An iron maiden?" Petra rested her hand on her hip and quirked her mouth at Elaine. "Really?"
"Just for the head fuck aspect, it's not functional. I've considered having it modified so I could use it for seclusion. But my sister insists it would destroy its value as an antique. Pity."
Petra sauntered to the top of the polished wood whipping post and drew her fingers over the top of the post. "This is fantastic."
Rainbow Snippets( https://www.facebook.com/groups/RainbowSnippets/)is a group for LGBTQ+ authors, readers, and bloggers to gather once a week to share six sentences from a work of fiction–a WIP or a finished work or even a 6-sentence book recommendation (no spoilers please!).
In this group, you'll find anything from romance and historical fiction to mystery and YA. The common thread is that every story's main character identifies as LGBTQ+. The snippets could range from zero flames to full-on sexytimes, anything goes content-wise. The only rule is snippets will be 6 sentences long–one for each color in the Pride flag.
Brenda Murphy writes short fiction and novels. She loves tattoos and sideshows and yes, those are her monkeys.  When she is not loitering at her local tea shop and writing, she wrangles two kids, one dog, and an unrepentant parrot.  She reviews books, blogs about life as a writer with ADHD and publishes photographs on her blog Writing While Distracted. You can find her on Facebook by clicking here.  Sign Up for her email list here  www.brendalmurphy.com
Books available at