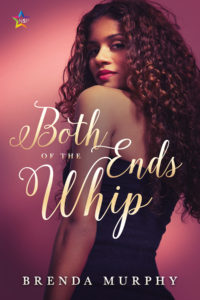 Hello all, I hope everyone had a great week last week. I took last week off to spend time with my family. Today is my eleventh wedding anniversary.  Between us, we have written eight books, had twins kids, loved three dogs and a onery parrot, survived two major surgeries, a broken arm, and the medical adventures of both sets of our parents and there is no one on the planet I would rather do it with. Wishing all of you happiness and love.  I hope you enjoy today's snip. 
From Both Ends of the Whip
Vivian brought a chair over, and Octavia sat down and held Bridget on her lap. "The stairs are too narrow for you to carry her." She poured a glass of water and held it for Bridget while she drank. The heat from Bridget's body warmed Octavia. The cellar air was cool as the sweat dried on her skin. She shivered.
Vivian frowned. "I should have asked Martin for blankets."
"I can walk." Bridget lifted her head and shifted in Octavia's lap. "Mistress."
Vivian touched her face. "You'll be no use to anyone if you fall down the steps."
Bridget snorted. "I was a line cook for five years. I'm not frail." She stood up and poured herself a glass of water and chugged it down. She placed her glass on the table and smiled. She shifted her gaze between them. "And I'll crawl up the stairs if it means I get to watch the two of you together."
Vivian shook her head. "You are a menace and have learned nothing." Her tone was playful. "Very well. Get up the stairs before I decide to persuade you." She picked up the quirt and pulled the tails through her fingers.
Bridget quirked her mouth. "Not sure that's motivation to behave or not." She picked up her clothes from the table. She turned her back to them and sashayed up the steps swinging her hips.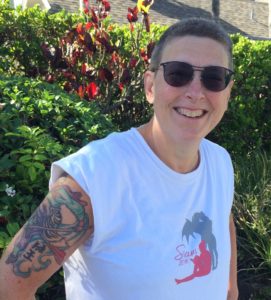 Brenda Murphy writes short fiction and novels. She loves tattoos and sideshows and yes, those are her monkeys.  When she is not loitering at her local tea shop and writing, she wrangles two kids, one dog, and an unrepentant parrot.  She reviews books, blogs about life as a writer with ADHD and publishes photographs on her blog Writing While Distracted.  You can find her on Facebook by clicking here.
Website: www.brendalmurphy.com
Books available at
Rainbow Snippets( https://www.facebook.com/groups/RainbowSnippets/)is a group for LGBTQ+ authors, readers, and bloggers to gather once a week to share six sentences from a work of fiction–a WIP or a finished work or even a 6-sentence book recommendation (no spoilers please!).
In this groupyou'll find anything from romance and historical fiction to mystery and YA. The common thread is that every story's main character identifies as LGBTQ+. The snippets could range from zero flames to full-on sexytimes, anything goes content-wise. The only rule is snippets will be 6 sentences long–one for each color in the Pride flag.
SaveSave