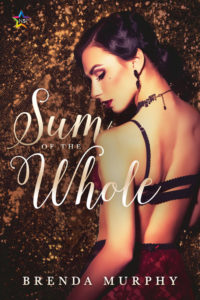 A blast from the past this weekend, a snip from my first novel in the Rowan House series.
From Sum of the Whole: 
JAYA STOOD IN the courtyard in front of the stable. The soft sounds of birds interrupted the morning quiet. Perfect, so utterly perfect. She had been up most of the night thinking about the ride she had planned. A woman led a large bay, fully tacked out for Jaya. What was her name? Jaya had considered her before settling on Sarah. The faded jeans fit her like a second skin, showing off her curves. She had the sleeves rolled back on her loose chambray shirt to reveal the exquisite vine tattoos accentuating the defined muscles in her arms.
"I didn't get your name." Jaya tugged her black kidskin riding gloves on.
"Octavia." The woman met Jaya's appraising gaze with one of her own. "Mistress." A switch or a bold submissive. Enticed by the woman's boldness, Jaya considered altering her plan for the morning.
Octavia held the reins and ran a hand down the horse's neck. "He's a real gentleman, Mistress, all seventeen hands of him. A real goer but he won't leave you if you don't make a fence." She did nothing to hide the amusement in her eyes. Jaya supposed many people who came to Rowan House imagined themselves as better riders than they were. It had been years since Jaya had taken the time to ride.
"I'm not planning on riding a steeplechase." She climbed the mounting block and settled into the saddle. She checked the fit of her stirrups and adjusted the length.
"He's a good fit for you." The woman frowned as she caught sight of the crop Jaya had in her hand. She raised her chin and pointed to it. "You'll not be needing that, Ma'am." Her voice was loud.
Jaya rubbed the bay's neck. "Rest easy. I would never use a crop on…" She raised the crop and traced the edge of Octavia's cheek with it, looking in the woman's eyes. "Any horse. This is a pleasure ride this morning."
"Do you fancy company, Mistress?" Octavia rested her hand on Jaya's boot, her eyes full of hope. "I could show you some sights." Her generous mouth spread wide in a smile. Jaya wanted to dismount and kiss the cheeky grin right off her face. She cupped the woman's cheek and traced her thumb over her full lower lip.
"Maybe tomorrow." A purposeful scuff of boots on gravel made her look up. Sara stood in the courtyard in tan jodhpurs and a white shirt. Her brow was furrowed and her mouth set in a thin line. She stood with her hands on her hips.
Rainbow Snippets( https://www.facebook.com/groups/RainbowSnippets/)is a group for LGBTQ+ authors, readers, and bloggers to gather once a week to share six sentences from a work of fiction–a WIP or a finished work or even a 6-sentence book recommendation (no spoilers please!).
In this group you'll find anything from romance and historical fiction to mystery and YA. The common thread is that every story's main character identifies as LGBTQ+. The snippets could range from zero flames to full-on sexytimes, anything goes content-wise. The only rule is snippets will be 6 sentences long–one for each color in the Pride flag.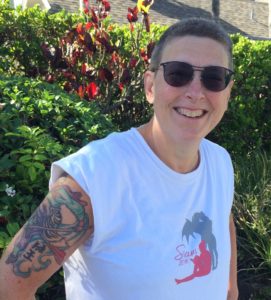 Brenda Murphy writes short fiction and novels. She loves tattoos and sideshows and yes, those are her monkeys.  When she is not loitering at her local tea shop and writing, she wrangles two kids, one dog, and an unrepentant parrot.  She reviews books, blogs about life as a writer with ADHD and publishes photographs on her blog Writing While Distracted. You can find her on Facebook by clicking here.
Website: www.brendalmurphy.com
Books available at