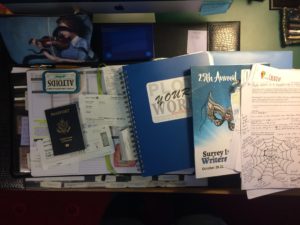 This past month I signed a contract for my third novel. And as anxious as I was to start my forth, because starting a new project is the best way for me to deal with the stress/anxiety/freak-out of submitting a manuscript for review. I make it a point to take some time between novels to study my craft, either by attending a conference, taking an online class, reading books about the craft of writing, and/or reading widely in my genre.
Why? Because on one level, writing is about doing that, siting down and putting words on paper. Nothing can replace that practice. There is no way to "hack" becoming better at writing than by writing and practicing your craft. I'm at the journeyman point in my career, with a collection of short stories, two novels published and a contract signed on a third. I'm not a beginner. But I am not seasoned writer with twenty novels to my credit either. I was not an English or Journalism major and I don't have a MFA, and I want to make it clear: none of the above degrees are necessary to write a novel.
But it is possible to improve your craft with out signing up for formal education. You can invest your time and money to learn new ways to communicate your ideas and entertain your readers. I'm a health professional and educator by training and am all about making plans to achieve your goals. In order to construct an educational plan for your writing career look at reviews of you work. What do readers complain about? And I'm referring to thoughtful reviews here, not troll-type reviews. What problems do your editors point out? Pacing? Structure? Plotting? Character development?
Here are some thoughts on ways to address recurring problems in your manuscripts. Have a problem with pacing? Study screenplays, or take a screen-writing class. Issues with dialogue? Study stage plays, watch movies from the 30's and 40's when special effects were limited, and dialogue had to carry the story. Problems with plotting and structure? Read, read, read in your genre, take time to see how the novelist did what they did by making an outline of the novel. Flat characters, or poorly designed character arcs? Read biographies, ethnographies, and memoirs, connect lived experiences with human behavior and character arcs. Struggling with world building and setting? Study filmmaking and photo journalism to see how setting is as much a part of the story as the characters.
Writers conferences offer opportunities to learn about the craft of writing but not every one  has time, money, mental, and physical health required to attend a writing conference. If a writing conference is not on your list of things to do, take advantage of the many low stress, free, or low cost resources for writers. My number one recommendation for resources is the public library. Most libraries are free, or low cost, and once you are a member you can use interlibrary loans to get just about any book or movie you want. Many libraries have a way to provide digital loans, saving you time, and the hassle of remembering to return your books/films/music. If you live near a university or college, check out their library and their theater productions. Creative Live offers courses on screenwriting, (https://www.creativelive.com and no, not I'm not getting paid to recommend them, they often have sales on their courses, so it pays to sign up for their newsletter.
Indie Film Academy (http://www.indiefilmacademy.com) is free as is Ted Talks (https://www.ted.com/talks) for interviews and lectures about writing, inspiration, and living a creative life.
Take time to invest in yourself and your writing career. You and your career are worth the effort.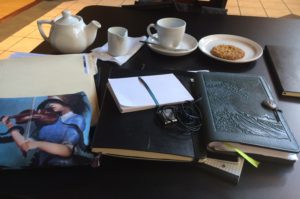 SaveSave
SaveSave
SaveSave