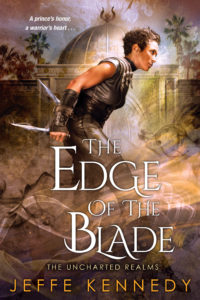 The Edge of the Blade, the second book in the Uncharted Realms series by Jeffe Kennedy  tells the story of Jepp, the leader and heart of Queen Ursula's elite guard The Hawks.  After a one night stand with a visiting Prince leads to a diplomatic crisis, Jeep's love for her Queen leads her to  accept an assignment that delivers her to a culture steeped in misogyny, and sexism, a kingdom where women are kept as bed-slaves or married, and never allowed to lead. A glimpse of hell as far as Jepp is concerned. She uses her wit, her fighting skills and instincts to free herself and Prince Kral from the draconian kingdom that was his home. 
 Filled with sassy, sexy romance and intrigue this is the first book in a long time that I wanted to re-read as soon as I had finished it. Why? Besides the fantastic world building and ripping storytelling, I adored the fact that Jepp, the lead character is a smart, ass-kicking woman, all out of fu@ks to give, and openly bisexual. And not just a glimpse, or a tease kind of bisexual, a hinted at thing that involves a lot of suggestion and fade to black moments. Nope, Jepp owns it.
And in the course of her story where she becomes more involved with a man she only intended to have a fling with she never, ever changes. She does not give over herself to the magic c@ck, that tired trope. Nope, she likes Prince Kral, maybe even loves him and the sex is great but if he can't get his act together, well its his loss. Bravo Jeffe Kennedy for continuing to write strong women characters who would rather be alone than not be true to themselves. 
This book works as a stand-alone but treat yourself to more of Jepp and read The Twelve Kingdoms series, and The Pages of the Mind before jumping into this book, or be like Jepp and jump in where you want too. 
Jeffe Kennedy is an award-winning author whose works include non-fiction, poetry, short fiction, and novels. She has been a Ucross Foundation Fellow, received the Wyoming Arts Council Fellowship for Poetry, and was awarded a Frank Nelson Doubleday Memorial Award. Her essays have appeared in many publications, including Redbook. She lives in Santa Fe, New Mexico, with two Maine coon cats, plentiful free-range lizards and a very handsome Doctor of Oriental Medicine.
Jeffe can be found online at her website: JeffeKennedy.com, every Sunday at the popular SFF Seven blog, on Facebook, on Goodreads and pretty much constantly on Twitter @jeffekennedy. She is represented by Connor Goldsmith of Fuse Literary.