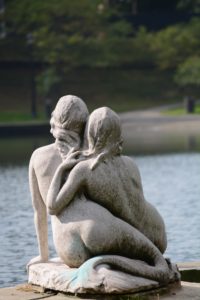 "The lovely thing about writing is, well, two things. One, writing fiction allows us to bring an order to our lives that doesn't exist in real life. And two, it allows us to create human characters that we know better than we will ever know anyone in real life. " Octavia Butler
I adore the above quote from Octavia Butler.  Characters are, for most readers, the most compelling reason for them to keep reading. Readers may tolerate a mediocre plot and pacing that is a bit off, but if they don't give a rat's patootie about the characters, they will stop reading your novel.  I know from discussions with both authors and readers I'm not the only person who misses fictional characters after we finish writing, or reading a book, in fact sometimes the only thing that pushes me to finish is a desperate desire to know how my characters' stories unfold and because I write romance I want them to get to their happy endings.
How do you go about crafting characters that keep readers turning pages? Some writers fill out exhaustive inventories of personality questions, and character inventories, some authors write reams of backstory, and others wing it. I have one friend that draws Tarot cards and uses them to create her characters.
I have a few tools I use for character creation and thought I would share my favorites. I begin my character building by starting with generalities: what they look like, age, where they grew up, and what they do for a living. The next step is completing the Backstory Wound Profile tool developed by Becca Puglisi and Angela Ackerman and available in their book, The Emotional Wound Thesaurus: A Writer's Guide to Psychological Trauma. I use The Emotional Wound Thesaurus to give depth to my characters, to provide them with reliable, understandable, and relatable reasons for their behaviors.
My next step is to complete a quick reread of Debra Dixon's GMC: Goal Motivation and Conflict. Her short book is a concise explanation of why it is essential to understand your character's goals, motivations, and conflicts. Dixon provides a GMC sheet that I complete as well using the information from the Backstory Wound Profile tool. If you don't read any other book on this list, read this one. The third step in creating my characters is to research their occupations and culture. I use blogs, ethnographies, and in some cases, my travel journals to add details to my characters profiles.
Developing my characters is as much a part of my writing process as much as creating an outline. If I get stuck writing a scene or if the story is not flowing, I go back to my character sheets. Story flow problems are most often issues with a character's growth arc. After rereading my character sheets, I'm usually able to suss out why my story is not working. After I address character arc issues, I'm ready to continue writing with confidence, knowing that my characters are moving along a believable path.
Writers, what are your favorite ways to craft characters? Do you have favorite tools and techniques you use? Readers, who are your favorite characters from fiction, the ones you still think about long after you close the book?
Brenda Murphy writes short fiction and novels. She loves tattoos and sideshows and yes, those are her monkeys.  When she is not loitering at her local tea shop and writing, she wrangles two kids, one dog, and an unrepentant parrot.  She reviews books, blogs about life as a writer with ADHD and publishes photographs on her blog Writing While Distracted. You can find her on Facebook by clicking here.  Sign Up for her email list here  www.brendalmurphy.com
Books available at
Coming Soon
Complex Dimensions, book four in the Rowan House series. Preorders Available September 20, 2019