Hello and welcome to the middle of February. Today's Rainbow Snippet is from my first novel, Sum of the Whole.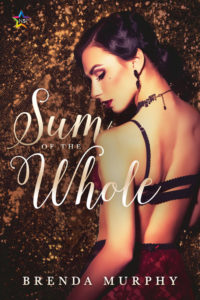 Sarah pressed harder against Jaya's leg and tipped her head back, eyes closed. Jaya rocked her hips, pushing back against Sarah. A shout in the distance made her stop.
Sarah looked up, her eyes glassy with desire. "What?"
"I heard…" Jaya released Sarah and steadied her.
"Here, girl! Here, Sassy!"
They broke apart. A beagle puppy jumped on Sarah. Sarah leaned down and scooped the puppy up and held her close. The owner arrived, visibly out of breath. He skidded to a stop on the gravel. A pink leash and collar dangled from his hand. Jaya blew out a breath and tried to smooth her expression.
"Sorry. She slipped her leash. Thank you." The man spoke to Sarah, avoiding Jaya's eyes.
"No worries. She's a sweet girl." Sarah rubbed the puppy's head and handed the dog back to her owner. He stuffed the leash into his pocket and headed down the path. Jaya flopped on the bench and groaned. Sarah walked over and settled herself on Jaya's lap. Scooting her hips, she pressed and rubbed against Jaya before she tucked herself into her arms. Jaya sighed and wished she could summon a djinn to spirit them away, like the stories her mother used to tell.
"I have to teach in an hour, but I would love to continue this discussion." Sarah kissed her way along Jaya's neck. Jaya hugged her close.
"Name the place." Jaya pulled back to look into Sarah's eyes. "And please can it be somewhere with a bed?"
"Yes. A bed would be nice. If you don't mind grad school chic, what are you doing tonight?"
"Showing you how much I missed you." Jaya pulled Sarah into a fierce kiss and Sarah melted against her.
https://www.facebook.com/groups/RainbowSnippets/
Rainbow Snippets is a group for LGBTQ+ authors, readers, and bloggers to gather once a week to share six sentences from a work of fiction–a WIP or a finished work or even a 6-sentence book recommendation (no spoilers please!).
In this group you'll find anything from romance and historical fiction to mystery and YA. The common thread is that every story's main character identifies as LGBTQ+. The snippets could range from zero flames to full-on sexytimes, anything goes content-wise. The only rule is snippets will be 6 sentences long–one for each color in the Pride flag.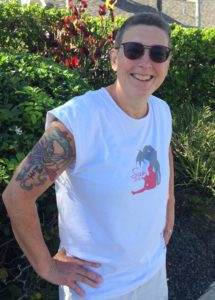 Brenda Murphy writes short stories and novels. She is a member of Romance Writers of America. Her nonfiction and short fiction have been published in various collections. Her most recent novel, One was published by NineStar Press. When she is not swilling gallons of hot tea and writing, she wrangles two dogs, twins, and an unrepentant parrot. She writes about life, books, and writing on her blog, https://www.brendalmurphy.com/blog.html
Website: www.brendalmurphy.com
Facebook:Writing While Distracted
Books available at
SaveSave
SaveSave
SaveSave
SaveSave
SaveSave
SaveSave