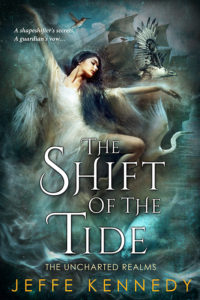 Jeffe Kennedy is here and has been kind enough to answer a set of questions I asked her. She set to release the third in The Uncharted Realms series. I have a review of The Shift of the Tide that I will post next week. The cover is just as gorgeous as the writing inside. It is a very worthy addition to the series. 
Imagine Jeffe and I sitting together sharing a glass of wine and talking. If you know either of this, it will not be hard. 
Here's JEFFE, 
It's fun to be here, virtually visiting my friend, Brenda. We had a great time drinking a lot of free wine together at the Siren's conference in Denver last fall.
Brenda asked me an interesting set of questions: Who do you write for? Who do you have in mind when you write a story? An audience? A specific person? Or yourself?
It's something that newbie writers get asked a lot, but that I haven't thought about in a while. I always found the question hugely aggravating back in the day. It seemed that two kinds of people asked it – writing teachers/critiquers and agents. Who is the audience for this book? They'd ask, in this earnest, quasi-helpful way. To my ear it sounded like the agents were saying, "Can you think of more than five people who would buy this?" and the teacher/critiquers were dancing around telling you that it was a hot mess that no one could possibly want to read.
Beyond the annoying subtext, I also hated the question because I never knew the answer. The first image that sprang to mind was always one of those street shots of commuter time in New York City with thousands of people walking up and down the sidewalks. I felt like I was supposed to freeze-frame that and circle likely faces.
Look! My audience! Out there… somewhere.
People were hung up on this question. Who are you writing for? Some advice-giving types would nod sagely and say you should have one special person that you tell your stories to. Kind of a combo soul-mate/muse. I love my husband and he's great support, but he doesn't read fiction. I've had a lot of first readers over the years. Usually several at once, which I guess makes me a polygamist, special reader-wise.
But I like how Brenda phrased this: Who do you have in mind when you write a story?
Because sometimes that happens. I hear enough from my readers that I know by now which ones will love certain aspects of a story. I write parts and smile, thinking of them wriggling in delight. Sometimes I put in a detail that I know will mean something to one person, and it's a way of sending them a hug and a wink.
Still, for the most part, having anyone's reaction in my head while I'm writing is a problem. I have a sign over my desk that says, "What would you write if you weren't afraid?" I look at that when I find myself anticipating reactions to what I'm writing, good or bad. For me, that "afraid" means worrying about what other people will think. And that just gets in the way.
The best writing – and by that I mean, the kind that flows without pause, that seems to come to me from another place, not necessarily the best quality or most inspired, though they're often the same – happens when I have no one in mind.
Maybe that's why I always hated that audience question. While I truly believe the cycle of art is completed when it reaches another person, I also think it's best born and nurtured away from anyone else's gaze. It's like quantum physics – as soon as someone else's consciousness touches the thing, it changes. There's a time for that, and it can be an important part of the story's eventual growth, but not during drafting.
So, Brenda, when I write, I try to have nothing and no one in mind. Not even myself.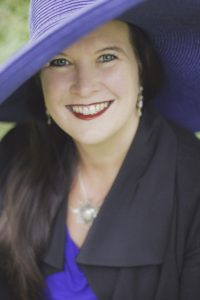 About Jeffe Kennedy
Jeffe Kennedy is an award-winning author whose works include novels, non-fiction, poetry, and short fiction. She has been a Ucross Foundation Fellow, received the Wyoming Arts Council Fellowship for Poetry, and was awarded a Frank Nelson Doubleday Memorial Award. Her award-winning fantasy romance trilogy The Twelve Kingdoms hit the shelves starting in May 2014. Book 1, The Mark of the Tala, received a starred Library Journal review and was nominated for the RT Book of the Year while the sequel, The Tears of the Rose received a Top Pick Gold and was nominated for the RT Reviewers' Choice Best Fantasy Romance of 2014. The third book, The Talon of the Hawk, won the RT Reviewers' Choice Best Fantasy Romance of 2015. Two more books followed in this world, beginning the spin-off series The Uncharted Realms. Book one in that series, The Pages of the Mind, has also been nominated for the RT Reviewer's Choice Best Fantasy Romance of 2016 and is a finalist for RWA's RITA Award. The second book, The Edge of the Blade, released December 27, 2016, and is a PRISM finalist, along with The Pages of the Mind. The next in the series, The Shift of the Tide, will be out in August, 2017. A high fantasy trilogy taking place in The Twelve Kingdoms world is forthcoming from Rebel Base books in 2018. She also introduced a new fantasy romance series, Sorcerous Moons, which includes Lonen's War, Oria's Gambit, The Tides of Bàra, and The Forests of Dru. She's begun releasing a new contemporary erotic romance series, Missed Connections, which started with Last Dance and continues in With a Prince. In 2019, St. Martins Press will release the first book in a new fantasy romance series, Throne of Flowers. Her other works include a number of fiction series: the fantasy romance novels of A Covenant of Thorns; the contemporary BDSM novellas of the Facets of Passion; an erotic contemporary serial novel, Master of the Opera; and the erotic romance trilogy, Falling Under, which includes Going Under, Under His Touch and Under Contract. She lives in Santa Fe, New Mexico, with two Maine coon cats, plentiful free-range lizards and a very handsome Doctor of Oriental Medicine. Jeffe can be found online at her website: JeffeKennedy.com, every Sunday at the popular SFF Seven blog, on Facebook, on Goodreads and pretty much constantly on Twitter @jeffekennedy. She is represented by Sarah Younger of Nancy Yost Literary Agency.
https://www.facebook.com/Author.Jeffe.Kennedy
https://twitter.com/jeffekennedy
https://www.goodreads.com/author/show/1014374.Jeffe_Kennedy
SaveSave
SaveSave