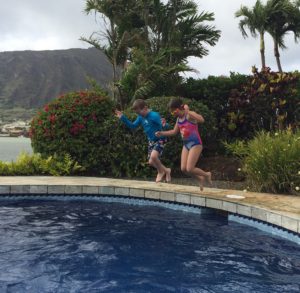 My kids have been swimming in this pool since they were twelve months old.  The first time we came to visit their grandparents we would all take turns with them in the water. We used tiny life jacket and floats to help them learn to navigate the pool.  Back home we spent hours at the YMCA pool with swim classes and family swim time. Beside the fact that I think that everyone should know how to swim as a matter of personal safety,  I wanted my kids to be comfortable in the water. Notice I said comfortable not cocky. I wanted them to respect the process of swimming and to understand that not everything in life can be "hacked".
Work, practice, and more work are the keys to getting better and experiencing success at anything. And work means that, doing the thing you want to be better at, swimming, cooking, writing, whatever,  not reading about it, or talking about the thing. You have to do the thing. Short cuts are for road trips, not skills. There is no substitute for time and practice.
 I am constantly amazed by the people I meet who expect overnight success as a writer. Writing, just like swimming requires time and commitment and overcoming your fear. Submitting a  short story, or poem, or novel, or play, or whatever it is that you write is like jumping into the deep end of the pool.  
 Don't expect the first time you submit your work to go smoothly.  You will freak out and stew and worry before you press the send button or drop the package in the mail.  You will most likely be rejected and flail and struggle to get to yourself to submit again. Don't quit, be fearless, jump in with both feet, honor the process of learning and practice.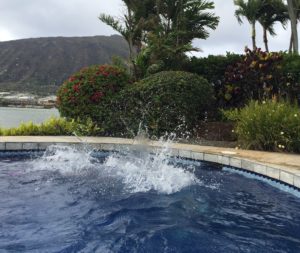 Do the work, hit the send button, then get back to work so you can jump again.